« Return to Previous Page
Young Athlete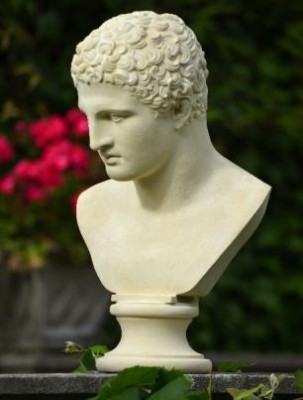 Young Athlete
---
A library bust similar to the bronze purchased by Lord Dumfries at
a London sale in 1756 which can now be seen in Lord Dumfries'
Study at Dumfries House in Scotland, an exceptional Adam
mansion designated Category A by Historic Scotland.
This exquisite Haddonstone replica is taken from a fine bronze
created in 1889 by the renowned Sabatino de Angelis of Naples.
The Sabatino edition was created from an antique excavated in
1754 from the atrium of the Villa of the Papyri in Herculaneum
having been buried in volcanic ash following the infamous
eruption of Vesuvius in AD79. One of the largest and most lavish
Roman residences ever to be explored, the Villa was excavated
at the wishes of Charles of Bourbon, using a complex system of
shafts and tunnels. The Villa's name derives from the discovery of
a library in the house containing more than 1,800 papyrus scrolls.
The original bust is now displayed at the Museo Archeologico
Nazionale in Naples. This bust would make a charming addition
to a garden or an interior such as a hall, drawing room or library.
---
Description

Product Description

ID: HE850

Height: 505mm (19 7/8")
Weight: 18kg (40 lb)
Width of bust: 285mm (11 1/4")
Width of socle: 165mm (6 1/2")

More to See

Aged Haddonstone

Looking for cast stone products with an older, weathered look? Check out our selection of unique, limited availability aged Haddonstone ornaments. We are located near Toronto, Ontario.

Our Portfolio

Want to see this piece and more used in a real-life garden or landscape setting? Browse through our portfolio to see stunning photos of projects completed by us or using our products in the Greater Toronto Area (GTA) and across Canada.