« Return to Previous Page
Soane Caryatid Statue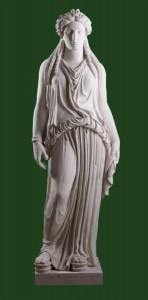 Soane Caryatid Statue
---
The most notable design being replicated by Haddonstone is the wonderful Soane Caryatid, originally created by the famous Coade & Sealy company in 1812. This would have been one of the last designs created during John Sealy's lifetime as he died in 1813. A pair of these female figures stand on top of the projecting stone façade of Soane's house in Lincoln's Inn Fields. Soane used identical caryatids in a number of projects, notably at his Bank of England and at Pitzhanger Manor, his country house in Ealing. The original Coade caryatid design was based on ancient Greek sculptures at the Erechtheion temple on the Acropolis in Athens, where the caryatids support an entablature. Coade modified the design to create a magnificent free-standing figure.
---
Description

Product Description

ID: HE675

Height: 1806mm (71 1/8")
Maximum base width: 460mm (18 1/8")
Weight: 446kg (982 lb)

More to See

Aged Haddonstone

Looking for cast stone products with an older, weathered look? Check out our selection of unique, limited availability aged Haddonstone ornaments. We are located near Toronto, Ontario.

Our Portfolio

Want to see this piece and more used in a real-life garden or landscape setting? Browse through our portfolio to see stunning photos of projects completed by us or using our products in the Greater Toronto Area (GTA) and across Canada.