« Return to Previous Page
Parthenon Frieze I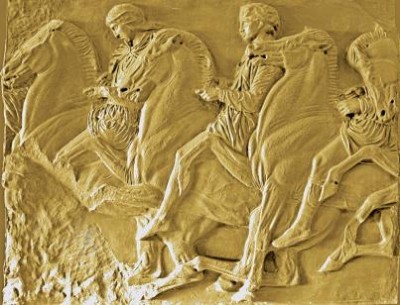 Parthenon Frieze I
---
Capturing the majesty of the renowned Parthenon Frieze, each of thse designs is replicated from original carvings which date from c443-438 BC. The originals depict the Panathenaic Procession. These horsemen are from the north frieze. Available individually or as a pair. Will require mechanical fixing in most instances.
---
Description

Product Description

ID: TLQ981

Height: 1030mm (40 1/2″)
Weight: 150 kg (330 lb)
Width: 1250mm (49 1/4″)
Depth: 100mm (4″)

More to See

Aged Haddonstone

Looking for cast stone products with an older, weathered look? Check out our selection of unique, limited availability aged Haddonstone ornaments. We are located near Toronto, Ontario.

Our Portfolio

Want to see this piece and more used in a real-life garden or landscape setting? Browse through our portfolio to see stunning photos of projects completed by us or using our products in the Greater Toronto Area (GTA) and across Canada.