« Return to Previous Page
Jacquemart Hunting Dog statue (R/H)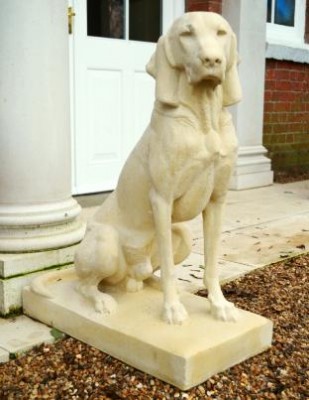 Jacquemart Hunting Dog statue (R/H)
---
These noble hunting dogs have been replicated from lead designs after the antique. The originals were sculpted by Henri Alfred Marie Jacquemart (1824-96), known as Alfred Jacquemart, a noted Parisian sculptor and one of the leading animaliers of his time. Many of his works were cast in bronze by the renowned Val d'Osne foundry, winners of a gold medal at the famous 1851 Great Exhibition in London. These hunting dogs first appear in the 1858 catalogue of Barbizat & Cie. Animal sculptures were popular in the nineteenth century and continue to be so today. Ideal for use as a pair either side of a house entrance or garden gateway.
---
Description

Product Description

ID: HE582

Weight: 84kg (185 lb)
Height: 785mm (30 7/8″)
Width at base: 315mm (12 3/8″)
Length at base: 620mm (24 1/4″)

More to See

Aged Haddonstone

Looking for cast stone products with an older, weathered look? Check out our selection of unique, limited availability aged Haddonstone ornaments. We are located near Toronto, Ontario.

Our Portfolio

Want to see this piece and more used in a real-life garden or landscape setting? Browse through our portfolio to see stunning photos of projects completed by us or using our products in the Greater Toronto Area (GTA) and across Canada.