Return to Previous Page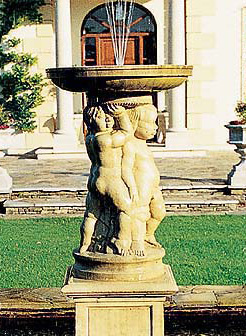 Figured Fountain
---
The Figured Fountain is a cast stone fountain by Haddonstone. This ornamental centerpiece fountain can be an attractive focal point of any garden design. It depicts children holding up a shallow dish. The fountain sprays directly up from the dish they are holding. It can be supported by a Jacobean Pedestal to create an even more awe-inspiring water feature.
---
Product Description
ID: C220
Height: 710mm 28″
Weight: 73 kg 161 lb
Diameter of bowl: 520mm 20½"
Aged Haddonstone

Looking for cast stone products with an older, weathered look? Check out our selection of unique, limited availability aged Haddonstone ornaments. We are located near Toronto, Ontario.
Our Portfolio

Want to see this piece and more used in a real-life garden or landscape setting? Browse through our portfolio to see stunning photos of projects completed by us or using our products in the Greater Toronto Area (GTA) and across Canada.