Decorating With Garden Antiques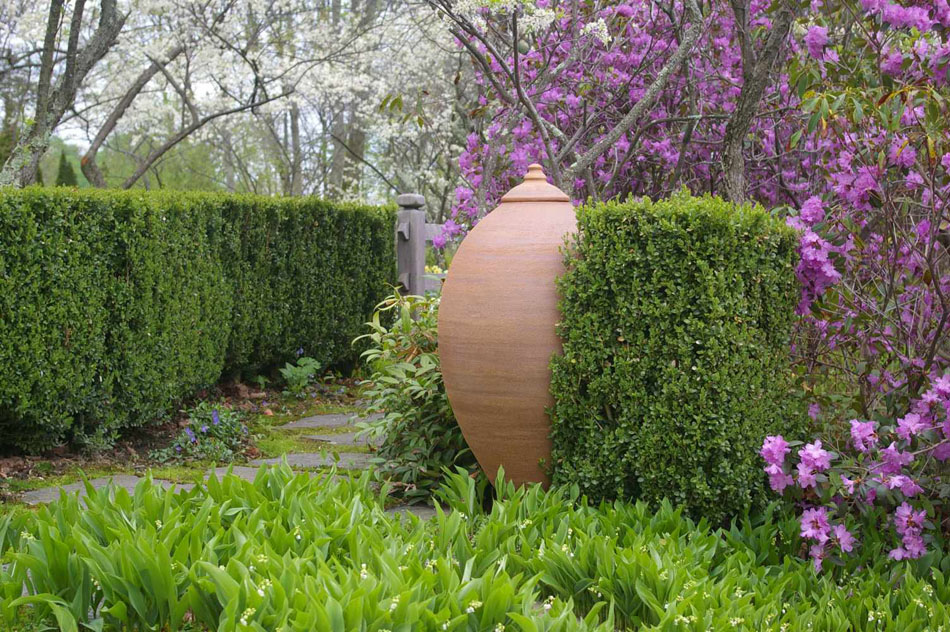 Garden antiques are great for adding a special touch to outdoor spaces. They make interesting conversation pieces, as every ornament has a story behind it; and those stories become part of the garden. Every new element added to a space has the potential to make it more unique, visually interesting and awe-inspiring.
Half the fun of adding a new piece of art to a garden is in searching for the perfect addition. An antique lover may not even know what they are looking for until they come across it, and then suddenly they know that they have struck antique gold.
One of the best things about garden antiques is the sheer variety of them available. Artistic designs come in all shapes and sizes, so there is no limitations to what one can find once the "hunt" begins.
Here are some popular types that make great additions to any garden.
Garden Ornaments
Antique Statuary
Antique statuary looks as if it arrived here through a portal from another time, and adds an otherworldly quality to garden spaces and patios. Angels, Buddhas, and Egyptian statues are all popular styles.
Antique Olive Jars
These functional jars typically come from Italy and Spain where they were used to store and transport batches of olives. They add an old world sensibility to any space, and a bit of history to any garden.
Antique Sundials
The antique sundial is a traditional centerpiece that looks as fantastic in contemporary gardens as it does in a classic knot garden.
Check out our extensive collection of Haddonstone garden ornaments.
Garden Furniture
Antique Table & Chairs
No patio space is complete without a place to sit down and enjoy a meal or afternoon snack. Why go for mass produced patio furniture when a unique antique table and chairs set can be acquired that will truly set the space apart?
Antique Wood Bench
A weathered, welcoming wood bench is a great addition to a larger garden, as it creates a destination, and encourages visitors to sit down and enjoy the surroundings.
Stone Benches
Antique stone benches make a great fit in gardens and green spaces, and offer a nice place to take a load off and take in the sights, sounds and smells of nature. Lichens and moss will grow on this garden furniture, making them look even more natural and rustic.
Garden Structures
Old Greenhouse
This is not the average garden antique, as it takes up a lot of space, and will put a nice dent in the wallet as well. However, if it fits into the space and the budget it can turn an unused section of the yard into functional antique marvel. Who wouldn't want to be able to grow flowers, herbs and vegetables all year round in a gorgeous antique greenhouse?
Cast Iron Gazebos
Adding an antique cast iron gazebo to the yard creates a visual focal point and a functional sheltered space. These pieces are extraordinarily ornate and very well constructed, so they will last a lifetime.
Antique Iron Gates
Antiques brighten up the present with a piece of the past, and that's exactly what an antique iron gate can do for a backyard space. Some of the metal work on these pieces is just amazing, and they make a great pairing with brick or stone.
Fountains
Wall Fountain
Wall fountains add a little bit of magic to the garden, and make the perfect water element for a large section of wall that is in need of décor. Styles range from simple abstract designs to ornate green man sculptures with water flowing out from their mouths.
Multi-tiered Fountains
Multi-tiered fountains are traditional accompaniments to outdoor spaces, and add a visually interesting echo from the past to a garden or patio. Making a nice cast iron triple-tier fountain the centerpiece of a garden adds a traditional element to the space.
Centerpiece Fountains
These whimsical fountains have a magical quality to them, and add the soothing sound of trickling water to a space. They can be found in a variety of inspired designs.
Planters and Urns
Ornate Urns
Urns are typically used in pairs as a way to designate an entrance into another section of the space. Alternatively, one can place an urn on a pedestal to create a focal point or break up a space.
Old Stone Troughs
Old stone troughs make great planters, as they create a lot of visual appeal when flowers, ferns or vines are growing out over the edges. They can be placed on a patio or in the corner of the yard and filled it with whatever extra plants are lying around.
Antique Planter Boxes
Antique planter boxes are functional as well as ornate, and provide the perfect juxtaposition of man made and natural elements when flowers or herbs are planted in them. They come in numerous styles, sizes and finishes, so there are boxes out there to compliment any space. Planter boxes are particularly well suited for patio or deck spaces.