Architectural Cast Stone
If you love a classic look, adding architectural design elements to a building or surrounding landscape will provide the traditional beauty that you're looking for. Architectural stone by Haddonstone is designed to weather the elements, while also adding significant style, richness and dimension to homes, commercial buildings, gardens and landscapes. It offers designers and architects the opportunity to make use of elements are true in spirit to the designs found in classical architecture. Where the standard range of designs cannot satisfy the requirements of a particular project, custom-designed stone pieces can be produced by Haddonstone.
If you are looking for architectural elements made from high quality cast stone such as quoins, keystones, cladding, window surrounds, parapet screening, cills, brackets and corbels, roundel, plaques, columns, pilasters, pier caps, porticos, copings and cappings, flooring or structures (temples, pavilions, ruins, follies, etc.) and more, please contact us today to discuss how we can help you and your project.
All elements that you select should be crafted according to the highest standards of quality. In most cases, stone should exceed the cube compressive requirements in your country. By choosing Haddonstone, you can have peace of mind knowing that the designs are created according to industry best practices. Our accents provide long-lasting beauty, can be an excellent investment in your property's value and can positively impact the safety of your patio or terrace.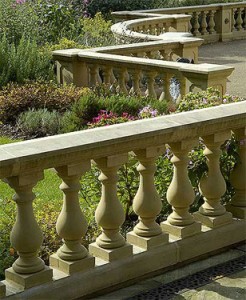 Whether you choose cast stone to add an antique look to a home's façade or interior (or to provide artistry and panache in an outdoor space), selecting the right provider is the key to achieving your design goals and making a project a success. Haddonstone's superior craftsmanship paired with the knowledge and expertise of Beyond the Veranda is the perfect combination to make your dream landscape into a reality.
Cast stone decorations are very pleasing to the eye. They offer a solid, substantial beauty, as well as ornate details that are awe-inspiring. Examples of popular cast stone products include porticos, balastrudes, parapet screening and window surrounds. All of these products add a sense of splendor, balance and proportion to indoor or exterior designs.
If you are in need of any type of architectural stonework, please contact us to let us know what you need and discuss how we can help you with your project.